A brand is the personality of a product or service. Consumers use brand personality traits to differentiate between similar products from different manufacturers, and once they become familiar with or -- even better -- associate themselves with a particular brand, they can become very loyal to that brand. All products have personality traits, whether the manufacturer intends them to or not. The art of branding is the art of establishing and controlling the perception of these traits by consumers to foster brand preference.
Branding, of course, subsumes all of the elements of marketing, including industrial design, positioning, advertising, media relations, package design, collateral and so on. Thus, all of the other elements of this site are essentially about "branding." Here, though, I wanted to highlight three branding efforts that I managed from the top down.
Barnwell Whaley Brand Makeover
When I joined Barnwell Whaley Patterson & Helms in 2007, the firm's image was dated and stodgy. Although great stock is taken in "roots" in historic Charleston, the firm was being eclipsed by bigger out-of-town rivals which were buying local firms and putting a more contemporary spin on their image.
Rather than sell ourselves to the competition, we decided to update the brand to make it more modern and edgy. The first step was redesigning the logo.

The old logo was black and white, non symmetrical (which made it harder to use in some applications), and too long. While we did not want to change the name, the simple fact was that the firm was always referred to as simply Barnwell Whaley. In addition, the tag line said nothing about the target market of the firm.
The new logo uses carefully optimized type, is in color, emphasizes "Barnwell Whaley", is more symmetrical, and has a new tag line which underscores the firm long history while specifying its target market.
I also redid the web site with the theme "To some attorneys, every problem looks like a nail. At Barnwell Whaley, we have a few more solutions." Although they've changed the web site (www.barnwell-whaley.com) since my departure, it still reflects that theme. Other examples of how that theme plays out can be seen the series of ads which ran in the Charleston Regional Business Journal.
In concert with the logo change, I also redid the letterhead and collateral.
The CQue Ingredient Brand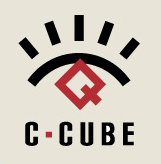 C-Cube Microsystems (since acquired by LSI Logic) was a designer and manufacturer integrated circuits that provided the essential brains -- called decoders -- of digital video-based devices such as cable set top decoders, DVD players and VideoCD players.
Although not widely known in North America and Europe, the VideoCD standard was widely adopted in Asia, particularly China and Japan, where it was (and still is) used for Karaoke and movie playback. Since VideoCD is a standard like audio CD (defined by Philips and Sony), it was possible for any component manufacture to build such decoders. C-Cube was first to market, however, with a highly integrated decoder that was widely adopted by Korean and Chinese OEMs making VideoCD players for the Chinese market.
Faced with competition for a high-margin business that was responsible for nearly all of C-Cube's profits, I led an effort to create an ingredient brand for C-Cube's VideoCD Decoder product line. Chinese consumers greatly valued imported brands such as Samsung, Sony and Panasonic because of higher perceived quality. VideoCD players from these manufacturers, however, were considerably more expensive then domestically produced versions with Chinese brand names. If C-Cube could convince its Chinese OEMs to place a C-Cube ingredient brand on their VideoCD players and convince consumers that such players where of superior quality, then C-Cube would be able to protect its market share and margins in this lucrative market.
The CQue Ingredient Branding Program had the following elements (the brand was nick-named CQue because that was how Mandarin-speakers pronounced C-Cube):
Direct television, radio and print advertising by C-Cube to support the brand
A media relation campaign with Chinese newspapers and consumer electronics publications
Cooperative advertising dollars for the OEMs (ads were required to carry the CQue logo)
Testing of players from participating manufacturers for video quality and functionality
VideoCD Decoder chips with special "quality functions"
Along with continued product advances, the CQue program was credited with maintaining C-Cube's market share in China. When I was in Hong Kong in December 2000, the CQue brand was visible on posters advertising VideoCD players.
ViaTV Videophone
I joined 8x8 specifically to launch their new consumer videophone product. The first step I took was to discard the unwieldy "Video Communicator" name and come up with the more friendly ViaTV Videophone (or ViaTV for short).
Unfortunately, I had only six weeks from the time I joined the company until the launch, so it was impossible to get more than collateral done by that time. But over the next several months, I developed and deployed a complete branding effort, including the following elements:
Product identification (logo)
Packaging
User documentation
Advertising
Collateral
Shelf talkers
Developed with graphic artist Judy Hemming, the final brand image fulfilled the original brief, a brand personality that was:
Elegant in its simplicity
Modern
Friendly and inviting
As a result of our branding and merchandising efforts, 8x8 sold over 250,000 ViaTV Videophones over the ensuing year, more standalone videophones than any consumer electronics company before or since.